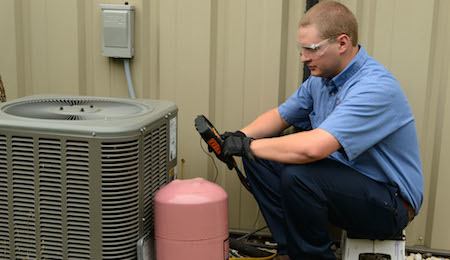 Air conditioning systems are a vital part of every home. Residential air conditioning has many benefits. The most obvious benefit is having the ability to cool your home in the hot summer months! Air conditioning systems work to control indoor air climate and create a comfortable living environment. Our expert HVAC technicians provide professional air conditioning repair, air conditioning installation and more. We have experience installing AC units in all types of homes, large and small. Give us a call at Rousculp's Heating & Cooling and we will help you choose a unit that best suits your home.
What Benefits Are There To Having Residential Air Conditioning?
When outside temperatures become unbearable, there is nothing better than escaping to your comfortable, air conditioned home. In addition to being able to reduce the temperature in your home and improve overall comfort, air conditioning systems have many other benefits:
Lower temperatures reduce the likelihood of having insects in the home
A clean air conditioning system helps eliminate airborne allergens such as pollens
Air conditioning filters help trap toxins and dust particles, making the environment easier for breathing
A properly working air conditioning system improves overall indoor air quality
Air conditioners remove unnecessary humidity from the air which can help alleviate cold symptoms
What Services Do We Provide?
We provide the following comprehensive air conditioning services:
Air Conditioning Repair
Air Conditioning Maintenance
Air Conditioning Replacement
Air Conditioning Installation
At Rousculp's Heating & Cooling, we care about your comfort and health. If you have any questions about our air conditioning services, give us a call and one of our HVAC specialists will provide you with more information.