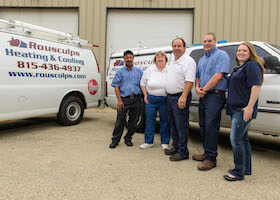 Rousculp's Heating & Cooling began in 1993 to provide customers with excellent service, fair prices, and a friendly company that you would feel comfortable calling for your heating and air conditioning problems. We are a small, family-owned and operated HVAC business specializing in residential repair and installation. Rousculp's strives to continually improve our knowledge and training so we can provide you with the best and most efficient solutions to your comfort problems. Rousculp's looks at your home as a complete system; including air flow, how many people reside in your home, allergies, and more; we're not just looking at your heating and cooling equipment. With this approach combined with the latest technology and information, we can recommend the best HVAC solutions to fit your needs.
Rousculp's Heating & Cooling encourages our customers to be proactive in maintaining their furnaces and air conditioners. Regular HVAC maintenance and furnace maintenance will reduce the need for repair. We have an Energy Savings Maintenance Program that offers the best price for tune ups and repairs. Preventative maintenance assures you that your furnace and air conditioner are tuned as close to original factory standards as possible. Our Energy Savings customers rarely have emergency break-downs because the aging parts are discovered during the tune up.
Call us today for all your heating, cooling, and comfort questions. Our friendly staff is looking forward to talking with you.