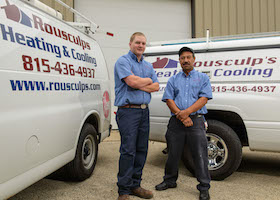 At Rousculp's Heating & Cooling, we have a dedicated team of HVAC technicians who are committed to making your experience hassle-free. We only hire the best and we guarantee our team is experienced and skilled.
All of our HVAC technicians have a passion for the job. We believe in educating our customers about the various heating and cooling options available to them. Our trained HVAC contractors have experience explaining the different options and assist our customers through the decision making process. Our number one goal is that our customers find an affordable and quality comfort.
For more information about our dedicated team, give us a call and speak to one of our friendly staff members.