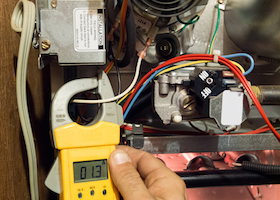 Your furnace is responsible for heating your house. If you have a furnace that is 10-15 years old, chances are it might be time for a new system. With advanced technologies, furnaces and thermostats are now increasingly computerized and more efficient than before. Older furnaces are typically oversized, taking up unnecessary space. Newer and more efficient furnaces are smaller and still produce the same amount of heat.
Illinois is famous for cold and long winters. Nobody wants a broken heater in the winter months. Our HVAC technicians will perform a variety of tests to pinpoint the exact cause of the problem. We have the experience and the resources you can trust to efficiently restore comfort in your home.
How We Can Help
At Rousculp's Heating & Cooling, our HVAC specialists have answers to all of your heating repair questions. From thermostats, to duct repair, to furnace, to your drafty house, our team can provide heating repair for any circumstance. Our trained HVAC technicians will evaluate your residential heating system, diagnose the problem and repair it quickly and professionally! Before we make any repairs, we will provide you with a detailed cost estimate. After your repairs, we highly recommend scheduling routine furnace maintenance appointments in order to help extend its life and keep it running at peak performance. In order to ensure your furnace and HVAC system are operating smoothly and efficiently, it is important to pay close attention to warning signs that indicate the need for furnace repair.
Warning Signs
If you notice any of the following problems with your furnace, give us a call at Rousculp's Heating & Cooling:
Your furnace makes unusual loud noises
When you turn up the thermostat, it doesn't feel warmer
Your gas bills are through the roof
Your furnace has a faulty ignition
Your furnace doesn't stay on
There is excess condensation on your windows
Your furnace is 15 years or older
Your house isn't staying up to temperature
Your furnace won't shut off
It is common for your furnace to develop these issues as it gets older. In order to avoid costly furnace repair, routine furnace maintenance is recommended. As soon as you detect something is wrong with your furnace, be sure to give us a call so one of our specialized HVAC technicians can come take a look at your system.
Our friendly staff consists of highly qualified heating repair technicians who have over 30 years of experience dealing with all makes and models of heating systems. We are confident in the quality of service we provide and all of our technicians take great pride in the work they do.
At Rousculp's Heating & Cooling, our number one priority is that your home stays heated and comfortable during the cold winter months. Even if we did not install your heating system, we are here to help. Our team has experience working with all different brands of heating systems and we have the tools and experience needed for high quality and prompt heating repair. If you need heat repair you can trust, give us a call. You can depend on us for all of your heating repair needs.