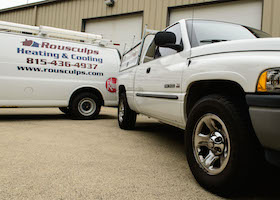 In order to be sure your furnace and HVAC system are operating efficiently, it is important to schedule regular maintenance. Furnace maintenance will ensure your system is working in top condition. Give us a call at Rousculp's Heating & Cooling and we will schedule a time for one of our experienced HVAC technicians to visit your home and assure your HVAC system is running at its best.
Preventative Furnace Maintenance
Preventative furnace maintenance will help you safeguard against expensive breakdowns and malfunctions in the future. During your precision tune up, we check all components of your equipment, including:
Heat Exchanger: We will inspect for deterioration and cracks.

Value to You: Heat exchangers can develop cracks with age. If your unit has any cracks or holes, there is serious risk of illness from the toxic fumes emitted.

Burners: Will be cleaned as needed.

Value to You: Dirty burners can cause poor combustion. You may be paying for useful heat that isn't making it to your living spaces.

Pilot: Will be cleaned and adjusted as required.

Value to You: A week or dirty pilot can be easily extinguished, causing your furnace to shut off.

Flue Pipe: Will be inspected

Value to You: Flue pipes can corrode or leak, emitting toxic fumes into your home.

Flame Sensor: Will be cleaned.

Value to You: A dirty flame sensor can cause your furnace to shut down and your ignition module to become locked out.
Because dirt is the main reason for equipment failure, regular maintenance will almost eradicate the need for emergency repair. Preventative maintenance will also help delay the more expensive option of furnace replacement. Scheduling regular furnace maintenance will provide you with the ability to order replacement parts and schedule time for furnace repair, before something breaks on the coldest night of the year!
Schedule regular furnace maintenance with the experts at Rousculp's Heating & Cooling. There are a number of things that could go wrong with your furnace and HVAC system; many go undetected and end up requiring costly repairs. Our number one priority is your home comfort. Don't risk having a faulty furnace in the winter time. Prepare your furnace for the cold winter months by scheduling regular furnace maintenance with our team at Rousculp's Heating & Cooling