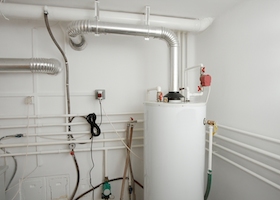 Central heating operates by using a boiler to heat your home. Faulty central heating systems will not only add costs to your energy bill, they pose a threat to your family's safety. Broken boilers can put your family at risk of carbon monoxide poisoning. Rousculp's Heating & Cooling has over 30 years of experience servicing boilers. Contact one of our professional heating repair contractors today to ensure the safety of your family and the efficiency of your system.
Warning Signs
The following warning signs indicate that your boiler may need to be repaired. If you detect anything that resembles one of these problems, reach out to one of our heating repair specialists immediately.
Strange odors
Unusual loud noises
Water leakage
Incorrect temperatures
A broken boiler can be inefficient and costly. Just like any other appliance, boilers require regular maintenance. With proper boiler installation and regular boiler maintenance, you can extend the life of your boiler. Do not wait until you have a massive and irreversible problem on your hands! Avoid unnecessary boiler repair costs by scheduling regular boiler maintenance with our highly trained specialists at Rousculp's Heating & Cooling. Call today!